Gun-rights advocates stage protest at Norfolk council meeting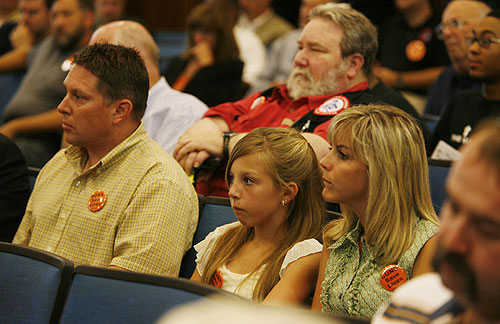 Chet Szymecki, who was arrested in June at Harborfest, was joined Tuesday by his daughter Kiersten, 13, and his wife, Deborah.
JOHN H. SHEALLY II | THE VIRGINIAN-PILOT

By HARRY MINIUM, The Virginian-Pilot
© August 29, 2007
NORFOLK
More than 100 gun-rights advocates, most carrying handguns on their hips and wearing buttons saying "Guns Save Lives," came to the City Council on Tuesday night to protest what they called harassment of law-abiding gun owners by city officials.
The protest was called by the Virginia Citizens Defense League, a gun-rights group, after Chet Szymecki of Yorktown was arrested in June at Harborfest for carrying a gun.
Szymecki was arrested for violating a city ordinance banning guns at Harborfest - an ordinance that officials now acknowledge violates state law. City Attorney Bernard A. Pishko said city officials were unaware of a state law prohibiting localities from banning guns.
Carrying a weapon openly is legal in Virginia, even at a large gathering such as Harborfest. Once city officials realized their error, the charges against Szymecki were dropped.
"We made a mistake," Councilman Barclay C. Winn said. "It was unintentional."
Most who came to protest didn't appear to believe it was an innocent mistake.
"You know it was illegal," said Dave Vann, who drove from Falls Church to speak. "You arrested someone, and now it's going to cost you dearly."
Szymecki, a Navy veteran, said he was manhandled and hurt and that his wife, Deborah, his three children and two other children who accompanied them were traumatized. He said he has hired Norfolk attorney Stephen Merrill.
An emotional Deborah Szymecki told the council that after several police officers were done handcuffing her husband, she was left without money or the keys to the family car.
Others rose to describe incidents in which they said they were questioned and often handcuffed by police for simply carrying a firearm openly.
"Apparently you have some officers who don't understand the law," said the president of the Virginia Citizens Defense League, Philip Van Cleave of Midlothian.
The meeting drew more rowdy as it continued, with speakers receiving thunderous applause and some expressing disgust for the council. Some used unsavory terms to describe the police.
Councilman Paul R. Riddick left the meeting as gun-rights advocates began speaking, he said, in protest of their protest.
Kim Barton, who would not say where she lives, tried to speak but was told by Mayor Paul Fraim that she couldn't because she had not signed up to speak.
"I want to hear what she has to say," Vann said.
Fraim replied, "I'm running this meeting " and informed Vann his time to speak had expired.
Harry Minium, (757) 446-2371, harry.minium@pilotonline.com
Thanks to The Geek with a .45.